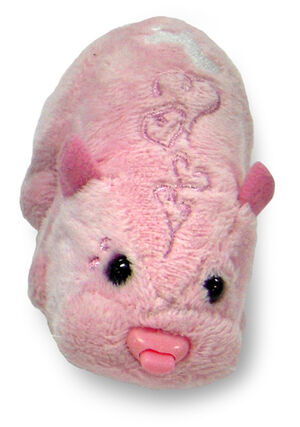 Miss Mulberry is a zhu zhu pet and from zhu zhu babies.
Miss Mulberry has light pink fur, pink nose and black eyes. She also has adorable print on her back, it's an ensemble of four pink hearts. Miss Mulberry is very kind and soft nanny, she likes to lull babies to sleep, to tell them fairy tales and sing them beautiful songs.
Miss Mulberry is the most loving, tender Lullabye Hamster. She doesn't have a mean bone in her body. That's why she gives the best caring advice and loves snuggling her ZhuZhu Babies™!
Information
Edit
Name: Miss Mulberry
Gender: Female
Color: Light Pink
Birthmark: Rocking Horse
Birthday: 07/28
Lives in: The Zhu Zhu Daycare with the babies