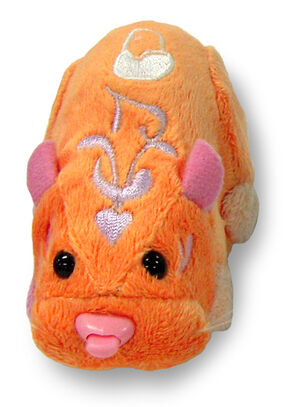 Mrs. Peabody is a zhu zhu pet and from zhu zhu babies.
Mrs Peabody is peach in color hamster, she has light peach paws and pink ears, she also has pink nose and black eyes. On her back you will find very charming ornament with hearts and leaves. Mrs Peabody has a great personality, she is a cheerful and lively hamster. She likes to take babies for a walk and play with them in the garden. She also plans and arranges babies parties.
Mrs. Peabody bakes the best sugary treats. Although she still enforces healthy eating, she believes every baby deserves a lovingly baked cookie every once in a while!
Information
Edit
Name: Mrs. Peabody
Gender: Female
Color: Peach
Birthmark: A safety Pin
Birthday: 03/27
Lives In: The Zhu Zhu Daycare with the babies