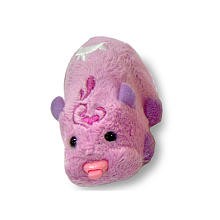 Nanny Paisley is a zhu zhu and also from zhu zhu babies.
Nanny Paisley has lavender color fur and light purple paws and ears. As all other three toys this one comes with unique and original print on its back. Nanny Paisley is an amazing cook, she likes to cook for little baby hamsters, it's so much fun and pleasure to surprise little ones. Babies also like what Nanny cooks, they always happy to eat tasty cookie with a glass of warm milk before bedtime.
Nanny Paisley tells the best bedtime stories. Her adventurous tales have a variety of themes from arctic voyagers to mysterious sorceresses. She even dresses up and role-plays the characters of her stories!
Information
Edit
Name: Nanny Paisley
Gender: Female
Color: Lavender
Birthmark: A Rabbit
Birthday: 11/10
Lives in: The Zhu Zhu Daycare with the babies